Faux Wood Blinds—Are They Right For You?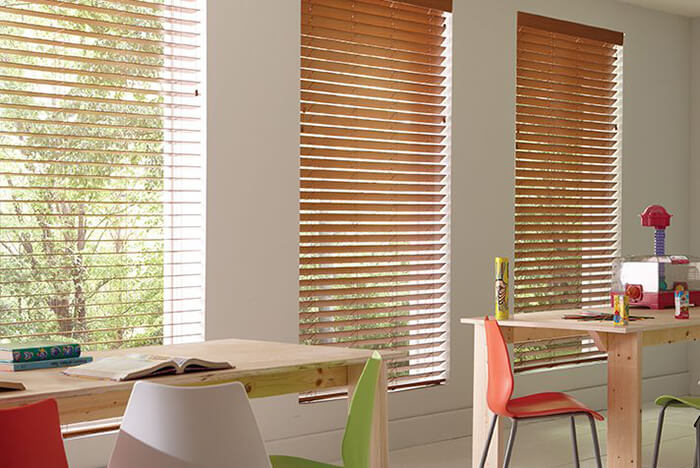 Do you love the look and style of real wood blinds but don't love the price? Then faux wood blinds may be for you. Faux wood blinds are a type of window treatment with a realistic wood grain appearance. They are usually made from a synthetic material, such as PVC or composite wood, and have an embossed wood grain. They can give your home the same look and feel as real wood blinds at a fraction of the cost.
Benefits
They look like high-end real wood blinds
Great for high-humidity areas
They are easy to care for and can be clean
They come in a wide range of colors and styles to match any décor
They are durable and will last for years
Faux wood blinds are made from a variety of materials, but the most common is PVC (Polyvinyl chloride). PVC is a synthetic material that is made to look like wood. It is strong and durable, making it a great choice for faux wood blinds.
If you are looking for blinds made from real wood, there are also composite woods available. Composite woods are made from a combination of plastic and wood fibers. They are water-resistant and can be used in high-moisture areas.
Faux Wood Blinds vs. Wood Blinds
The price difference between faux wood and genuine wood blinds can be quite significant. However, this will depend on your ability to compare like-for-like factors such as the size of the window and the type of blind. This makes them a great choice for people on a budget or for people who want the look of wood blinds at a more affordable price.
Does that mean they won't look as good as real wood blinds? The simple answer is no. Quality faux wood blinds do not look like plastic or have a cheap appearance. You can tell a faux-wood blind from a genuine wood blind because of the uniformity of the grain, but a good quality blind will still have wood grain textures that give the appearance of real wood.
Faux wood is usually heavier than real wood blinds, so if you have larger windows, they may not be ideal, or you may need to split the window into several blinds.
Durability
Faux wood blinds are very durable and are made to last. PVC is a strong and sturdy material, perfect for faux wood blinds as it won't warp or discolor over time. Composite woods are moisture-resistant and can withstand high humidity levels in bathrooms and kitchens without warping or fading. That being said, composite woods don't do well with high temperatures over long periods of time, specifically 130F or above. So they should be kept away from fireplaces or high heat sources.
Routeless Option
Routeless blinds are a new type of blind that has no route holes. This means that they are completely private and provide better light control because there are no visible holes. Routeless blinds are great for bedrooms or for people who want more privacy in their homes.
Slat Sizes
Faux wood blinds come in a variety of slat sizes, from 1 to 2.5 inches. The most popular size is 2 inches, providing good coverage and privacy while still allowing some light to filter through. With 2-inch slats, there is a 2-inch gap between the slats. If you're looking for complete privacy, then blinds with larger slats.
Blackout Capabilities
Faux wood blinds won't provide blackout room darkening, but they will block around 90 to 95% of light, depending on the width of the slats. Blinds with a wider slat size will provide more light blockage than smaller slat sizes. The routeless option will provide more light control because there are no holes in the blinds that allow light to pass through.
Rounded Corner Blinds
Faux wood blinds with rounded corners are a new trend that is becoming popular. Rounded corners give them a more finished and polished look. They are a safer choice for children's rooms as they help to prevent sharp corners.
Decorative Valance
Valances are a great way to add a decorative touch to your blinds. They can be made from the same material as the blinds or a different material such as fabric. Valances can be attached to the top of the blinds or hung separately.
Lift Systems
There are a few different types of lift systems available
Cordless Lift System: Easy to use and great for homes with children or pets because there is no lift cord.
Motorized Lift System: Operated by remote control or your smartphone. A great choice for homes with large windows or for people who have mobility issues.
Cleaning Your Blinds
Cleaning faux wood blinds is a breeze. You can easily vacuum them with a brush attachment or use a damp cloth and mild soap. Wipe the blinds clean, and they will look like new ones in no time.
Faux wood blinds can last years if properly cared for. However, you should consider replacing them with new blinds if:
Yellowing or discoloration occurs after years of direct sunlight.
Cords are frayed or stretched.
Warping or twisting of slats.
Mechanisms do not work to lower and lift.
Slats aren't providing the light filtering you need.
You have changed the color and decor of your house.
Faux wood blinds are a great alternative to real wood blinds, they are made from durable materials and are available in a variety of styles and colors. If you are looking for a great-looking, affordable window treatment, faux wood blinds are the way to go. Contact your blind experts at Wei Wei Drapery in Denver or Greenwood Village today! Our team of experienced designers and installers will be happy to help you choose the perfect faux wood blinds for your home. Call us at (303) 292-1036 or email tommy@weisds.com.https://weisds.com/wp-content/uploads/2022/02/wood-blinds.jpg