Mini Blinds – A Stylish and Affordable Window Covering
Mini (Aluminum) blinds are a popular window covering choice for many homes. They can be made from a variety of materials, including vinyl, aluminum, and wood. Mini blinds are typically less than an inch in diameter and can be easily controlled to let in light or keep out the sun.
Aluminum mini blinds were created in the late 1950s as a more affordable alternative to wood blinds. They were made of stamped aluminum and quickly became popular because of their low cost and easy care.
Today, they are still one of the most popular window coverings because they are very versatile. They can be used in any room in the house and can be adapted to almost any window size.
Mini blinds are an ideal choice because
They can be installed in minutes.
They are a fraction of the cost of traditional window coverings like drapes or curtains.
Come in a variety of colors and styles.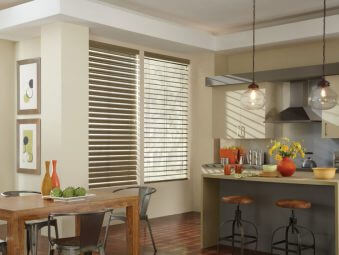 Types of Blinds
Vinyl
Vinyl blinds are a popular choice because they are affordable and easy to care for. Vinyl is a durable and water-resistant material that is very easy to clean, and this material is available in a variety of colors and styles.
Vinyl blinds have more flexibility than aluminum blinds, and they aren't prone to dent or crease. However, they are more fragile, so if you have a pet that likes to spend time near the window, aluminum may be a better option.
Aluminum
Aluminum blinds are a more durable option than vinyl, but they are also more expensive. Like vinyl blinds, they come in a variety of colors and styles and can be cleaned with a damp cloth.
Wooden
Wooden blinds are a classic choice for many homes. They are available in a variety of styles and colors and can also be painted to match any décor. Wooden mini blinds are the most expensive option.
Slat Sizes
Mini blinds are available in a variety of slat sizes. The most common slat size is 1 inch, but they are also available in ½ inch, ¾ inch, and 2-inch sizes. The slat size you choose will depend on the look you want and the type of window you have.
When choosing the size of your slats, you should match the window's proportions as you want to complement, not overpower, your decor. For small or medium-sized windows, use ½ to 1" inch slats. For larger windows, use 2 or 2 1/2″ slats.
Tilt Option and Light Control
A great feature of mini blinds is the tilt wand. This allows you to tilt them open or closed, giving you control over the amount of light that comes into a room. This is a convenient feature for controlling glare and heat, and it also protects furniture and floors from the sun's harmful rays.
Mini blinds are not a good option for you if you are looking for complete blackout. Blackout blinds are made of a material that blocks out all light. Mini blinds do not block out all light, but they do offer privacy and can reduce glare.
Valances
Valances are a popular way to dress up mini blinds. They are a short piece of fabric or other material attached to the top of the blinds to add style and color. Valances are made from a variety of materials, including vinyl, fabric, and wood. Many people choose to add a valance to add a pop of color or to match the décor of their room. Valances are also a great way to hide the blinds when they are not in use.
Hold-Down Brackets
Hold-down brackets are a simple way to keep the blinds in place. They are a small metal or plastic bracket attached to the top of the blinds that help keep your blinds from swaying in the wind and make them less likely to blow off the window. They are a great way to keep mini blinds looking neat and tidy.
Lift Options
Cord Lift -This option has a lift cord that runs through the slats and is used to raise and lower the mini blind.
Cordless Lift -This option does not have a cord that runs through the slats. Instead, they have a spring-loaded mechanism that allows you to raise and lower the blind without the use of a cord. Cordless mini blinds are ideal for homes with children or pets.
Inside Mount vs. Outside Mount
Mini blinds are commonly mounted inside the window frame; this is called 'inside mount'—anyone with basic do-it-yourself skills can install mini blinds in this fashion.
'Outside mount' is when the blinds are mounted on the outside of the window frame. This installation method is a great choice for windows that are not perfectly square or for windows that are larger than the standard size. Outside mount is a great option if you want more privacy or light control.
Cleaning Mini Blinds
Mini blinds can be dusted with a feather duster or vacuumed with the brush attachment. To clean your blinds, you can use a damp cloth. Be sure to wipe from top to bottom to avoid streaking.
Mini blinds are an affordable way to add privacy and style to your home. They are an ideal solution if you are on a budget and don't want to sacrifice style for affordability. They are available in a variety of colors and styles to match any décor. If you're in the Denver or Greenwood village areas, let us help you with all your mini blind needs. Our experienced design team will help you choose the best window coverings for your needs and budget. Call us today at (303) 292-1036, or email tommy@weisds.com.