Vertical Blinds – A Great Option For Your Home or Office
Vertical window blinds aren't just for your grandparent's garden apartment anymore. While they were trendy in the 80′ and '90s, they are seeing a resurgence in popularity. They are a classic window treatment style used in residential and commercial settings. They are perfect for sliding glass patio doors and large windows. They are made up of vertical slats that can be rotated to control the amount of light and privacy entering the room. They are available in a variety of durable materials, including fabric, wood, and vinyl.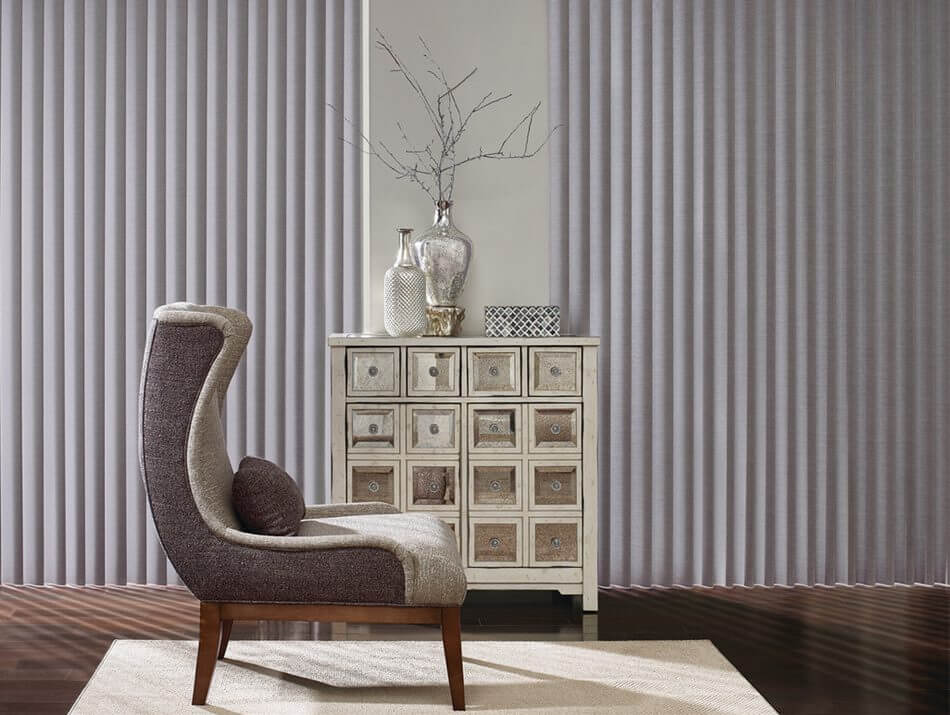 There are several reasons why vertical blinds are a popular choice for window treatments.
They are easy to operate. The vertical slats can be adjusted to let in as much or as little natural light as desired.
They also provide excellent privacy control. When the slats are closed, visibility into a room or office is blocked.
Durable and easy to maintain.
They are affordable and offer great value.
There are three main types: fabric, wood, and faux wood/vinyl.
Fabric: A popular for residential settings, and they come in a variety of colors and textures to match any décor. Synthetic polyester is made of fibers that do not break down as readily as natural cotton, silk, or wool due to its synthetic origins.
Wood: Add a touch of elegance to any room. They are available in a variety of wood finishes, such as cherry, maple, and oak.
Faux wood or vinyl: An ideal choice for commercial settings. They are available in a variety of colors and textures to match any office or business setting. They are easy to clean and operate.
Rigid PVC Vertical Blinds
PVC blinds are simple to maintain and water-resistant, making them ideal for kitchens and bathrooms. The high-quality PVC fabric creates total darkness when the slats are closed, providing excellent privacy. These PVC shutters are ultra-sleek because they have no weights or chains, giving a stylish and modern look.
S-Shaped Vinyl Vertical Blinds
The S-shaped blinds feature curved vanes that provide tighter closure and more privacy. The S-shaped slats filter out more light than traditional vertical blinds, providing greater light blockage when fully closed. These are ideal for bedrooms and home offices.
Slat Options
Vertical blinds come in a variety of slat sizes; the most common are 2 to 4-inch slats. The most popular slat size is 3 inches. Larger slats let in more light and provide a better view when open. Smaller slats offer more privacy and are better at blocking out light.
Replacing Slats
Some suppliers will provide replacement slats, which allow you to replace a damaged slat with a new one. This is particularly helpful as the entire blind does not have to be replaced if one slat is damaged. Replacement slats may be difficult to come by for some blinds, especially custom blinds.
Track System
A blind track system is made of a single aluminum track that runs along the top of the window or door. The blinds are attached to the slimline track with brackets, which allows them to be rotated to control the light and privacy. It is important to note that they have a deeper mounting depth than most other window coverings because of the wide slats.
Motorized Blinds
Motorized blinds work great for large windows and doors. They are operated with a smartphone or remote, making them very easy to use. Motorized blinds are also available with a timer, so they can be set to open and close at certain times of the day.
Blind Wand
A blind wand is a traditional option for vertical blinds. It is a long, slim wand used to rotate the vertical slats, allowing you to open or close the blind without touching them, preventing soiling. Cordless wand controls are also available, making them child and pet friendly.
Light Control
Vertical blinds provide excellent light control. You can adjust the slats to let in as much or as little light as desired. To maximize light control, choose blinds made of a light-blocking material, such as vinyl or wood. If privacy is also a concern, choose blinds with vertical slats that can be closed completely.
Blackout Capabilities
Vertical blinds are not blackout curtains, but they can provide reasonable light control. If you are looking for blackout capability, you will need blackout shades. Blackout shades are made of a thick, opaque material that blocks all light from entering the room.
Cleaning Your Blinds
You can clean your blinds with a dust cloth or vacuum. If they are made of synthetic material, such as vinyl, you can also clean them with a wet cloth. Be sure to read the manufacturer's instructions before cleaning your blinds.
---
Vertical blinds are a great choice for anyone looking for an affordable, stylish, and functional window covering. They are available in a variety of colors, materials, and sizes to suit any home or commercial space. They provide excellent light control and privacy and are easy to operate with a wand or remote.
Let our design consultants at Wei Wei Drapery Inc help you choose the best window coverings for your home and commercial space. We are proud to service the Denver and Greenwood Village areas. Contact us today to book an appointment with our design consultant!