Add a Touch of Elegance with Real Wood Blinds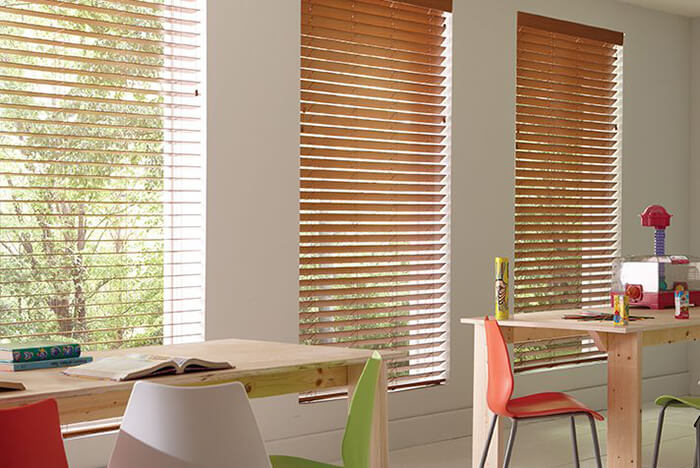 Wood blinds are a type of window covering made from wood slats. They are a popular choice because they add a natural look to any room, and they are durable and easy to maintain.
Benefits:
Durability: They are made to last and can withstand everyday use.
Insulation: They keep your home warm in the winter and cool in the summer, saving you money on energy costs.
Style: Available in a variety of styles and wood types, allowing you to find the perfect match for your home's decor.
Wood Options
There are many different wood types to choose from. The type of wood you choose will affect your blinds' style, color, and finish.
Some popular wood types include:
Pine: A light-colored wood with a natural finish. It is an affordable option and comes in a variety of styles—a good choice for rooms with a traditional or country style.
Oak: A dark-colored wood with a natural finish. It is a popular choice because of its durability—a good choice for rooms with a traditional or modern style.
Oak: A medium-to-dark-colored wood with a natural finish. It is more expensive than pine but is also more durable—a good choice for rooms with a modern style.
Mahogany: A dark wood with a rich finish. It is one of the most expensive wood types, but it also offers the highest quality—a good choice for rooms with an elegant or luxurious style.
Basswood: A light wood with a smooth finish. It is a popular choice because it will not become brittle over time and is easy to clean and maintain.
Cherrywood: A dark wood with a reddish finish. It is one of the more expensive wood types, but it offers a high level of quality and beauty —a good choice for rooms with an elegant or luxurious style.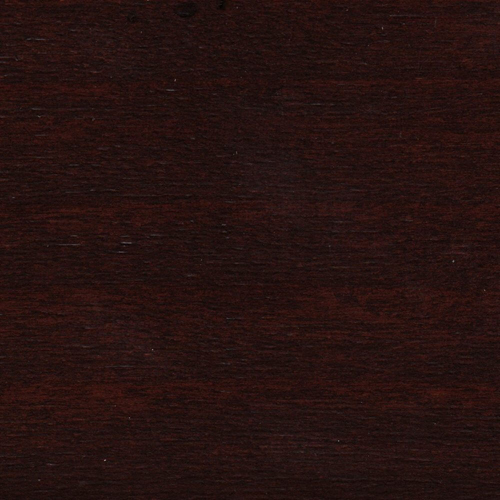 Wood Blinds in Bathrooms
Wood blinds are not an ideal choice in bathrooms and kitchens as they are susceptible to moisture and can warp due to the high humidity. If you want to cover your bathroom and kitchen windows but still maintain the wood style, consider faux wood blinds or plastic blinds instead.
Slat Sizes
Wooden blinds come in a selection of slat sizes. The most common sizes are 1″, 2″, and 3″ The size will depend on the look you want to achieve, the size of your window, and the amount of light you want to let in.
Wooden Blinds with Rounded Corners
Wood blinds with rounded corners are a popular choice as they offer a softer look. Rounded corners can also help prevent them from warping over time.
UV Protection & Blackout
Wooden blinds can provide some level of UV protection for your home. This is especially beneficial if you have expensive wood floors and home furnishings that the sun's rays could damage.
Wooden blinds are not blackout. If you are looking for window coverings that will completely block out the light, consider a blackout shade or curtain.
Routed vs. Routeless
There are two types of wood blinds: routed and routeless.
Routed blinds have holes drilled into the wood so that the cords can pass through, resulting in visible holes.
Routeless blinds do not have any holes drilled into the wood. The lift cords are attached to the back of the blinds so that there are no visible holes resulting in greater light control.
Decorative Cloth Tape
Wood blinds with decorative cloth tape are a popular upgrade as they add a touch of elegance to any room. The cloth tapes can be matched to your curtains or upholstery for a coordinated look.
Custom Valance
A valance is a piece of fabric or wood attached to the top of your blinds to cover the opening between the slats and the window frame. A decorative valance is a great way to add a touch of style to your blinds. They come in a variety of styles and can be made from the same wood as your blinds or from a different wood altogether.
Lift Styles
There are three main lift styles:
Standard: Standard blinds have a cord that hangs down from the blinds and is used to raise and lower them.
Cordless: Cordless blinds have a spring-loaded mechanism that allows you to raise and lower the blinds without a cord. They are the safer choice for homes with children or pets.
Motorized: Motorized blinds are operated with remote control and are ideal for larger windows or windows that are hard to reach.
Refinishing Your Blinds
One benefit of real wood blinds is that they can be restored to their original beauty if they become scratched, scuffed, or faded.
Refinishing them is a simple process that anyone can do.
Start by sanding the wood blinds with fine-grit sandpaper. This will remove any surface imperfections and give the wood a smooth surface to work with.
Next, apply a wood stain of your choice. Be sure to follow the manufacturer's instructions for the best results.
Once the wood stain has dried, apply a clear coat of polyurethane to protect the wood and give it a glossy finish.
Allow the polyurethane to dry completely before hanging the wood blinds back up.
Cleaning Your Blinds
Dust regularly with a soft, dry cloth.
Wipe with a damp cloth if they become dirty. Be sure to wring out all the excess water before wiping.
Do not use harsh chemicals or abrasive cleaners.
Reapply a coat of wood sealant once a year to protect the wood from moisture and sunlight.
If they become warped, you can try to correct them by using a wood re-surfacer.
Wood blinds are a classic choice for any home. At Wei Wei Drapery Denver and Greenwood Village, we offer beautiful custom wood blinds at a price you can afford. Our design consultants can help you choose the best blinds for your home. We service the Denver and Greenwood Village areas and provide free onsite estimates and measuring. Contact us today to get started!