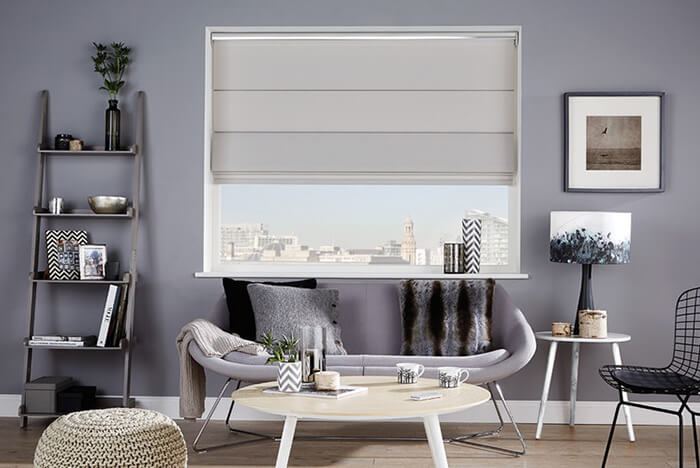 Roman shades are a window treatment that provides an easy solution for anyone looking for a mix between shades and curtains. Roman shades are easy to operate and can be raised or lowered to allow just the right amount of light into your home. They're also an excellent option for people who want the privacy of a shade but don't want to block out all the light. They can be made from various fabrics and pattern choices so that you can choose the right level of privacy for your needs.
Fabrics and Colors
Roman shade fabrics come in various textures and an assortment of colors to match any home décor. Choose from fabrics such as cotton, silk, linen, or polyester. Sheer fabrics allow light to filter through, while opaque fabrics provide more privacy. You can also choose a fabric that matches your existing window coverings or select a new color or pattern to add style to your home.
Choose from a variety of colors, patterns, and fabric collections to find the perfect shade for your home. Whether you're looking for a neutral tone or something more colorful, there's a shade to match your style.
Fold Styles
Roman shades can be designed with different fold styles to create a unique look.
A popular choice is the flat fold, which lays flat when lowered and creates a clean look. There are no seams on windows 52 inches or smaller, so patterns do not become mismatched. The flat fold is a good choice for most windows and can be used with any fabric.
A roman shade with a relaxed fold or European fold will have a more tailored, sleek appearance when lowered. This fold style is popular among modern and contemporary homes. These shades are different from the other Roman shades because they have a curved bottom.
The soft fold or hobbled fold is a more relaxed style that gently folds when lowered, creating a softer look. This is a great option if you want a more casual look or a traditional or vintage style. The added fabric of these shades can help darken a room. They're bulkier than some styles and aren't a good choice for shallow windows.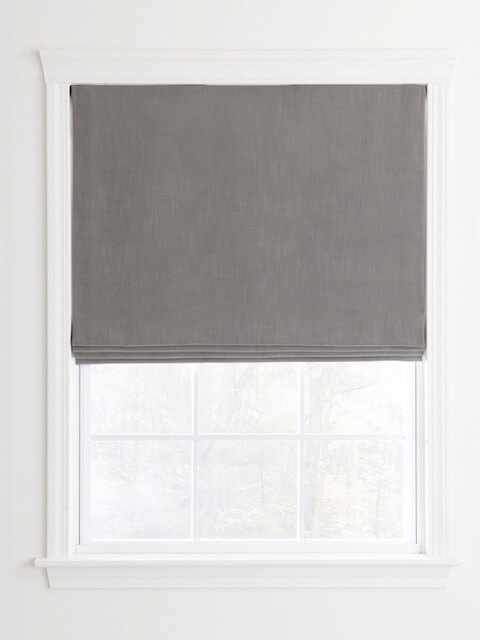 Lift Types for Roman Shades
Motorized roman shades are an excellent option for anyone who wants to control their shades with the touch of a button. With a motorized shade, you can raise or lower your shade no matter where you are in the room, making them a great option for people who have trouble reaching high windows or who want to add a luxurious touch to their home.
A cord lock allows users to raise a Roman shade by simply pulling on the cord. Simply pull the cord and when the shade is at the desired height, pull the cord to the right to lock it in. To release the shade, simply pull the cord to the left to unlock and change the height.
A continuous loop lift blind is a great option for people who want an easy way to raise and lower their shades. This type of shade has a continuous loop that can be pulled up or down to change the height of the shade. The cord is also attached to a roller, so the shade moves easily up and down, making it a great option for people who want to raise and lower their shades without any loose hanging cords.
Blackout Roman Shades
A blackout roman shade is an excellent option for people who want to block out all the light from their windows. These shades are made from blackout fabrics that block all the light, making them ideal for bedrooms or media rooms. They're also a good choice for people who want to reduce energy costs, as they can help to keep your home cooler in the summer. Blackout roman shades are available in a variety of colors and patterns to match any décor.
Mounting Roman Shades
There are a few different ways to mount Roman shades, so you can choose the option that works best for your window.
The most popular way to mount Roman shades is to install them inside the window frame. This option is a good choice if you want to retain the look of your existing window treatments or if you want to create a seamless look in your room.
If your windows are too shallow for an inside mount, or if you want to create a more dramatic look, you can install Roman shades outside the window frame. Outside mount shades can add visual interest to any room and can be a great way to hide unsightly windows.
Top mount roman shades are a good option to add a touch of luxury to your home. These shades are mounted on the top of the window, letting them hang down in a graceful arc. This option is perfect for large windows or windows with beautiful views.
Our experienced team at Wei Wei Drapery is proud to offer install services for all types of Roman shades. We'll work with you to choose the perfect type and style of shade for your home, and we'll make sure they're installed properly so you can enjoy them for years to come. Contact us today to learn more about our services or to schedule a free consultation.
How to Clean Your Shades
To clean your Roman shades, start by dusting them with a soft cloth. If there's any dirt or stains on the shade, you can use a mild detergent or soap to clean them. Be sure to avoid using any harsh chemicals or solvents, as they can damage the fabric of your shades. To dry the shades, simply hang them up or place them on a drying rack. Avoid using a clothes dryer, as the heat can damage the fabric.
If you are looking for custom drapery for your home in the Denver or Greenwood Village areas, be sure to visit Wei Wei Drapery Inc. We have a wide array of fabric options in a variety of styles and colors, so you can find the perfect shade for your home.